Friends of Hue Foundation is considered one of the most active nonprofit organizations in the Bay Area in 2020. We have helped distribute over $60K in financial aid to San José residents who have experienced economic hardship due to the COVID-19 pandemic. And continue to provide assistance for housing, unemployment, and small business loan applications. We've provided emergency relief for the community during the crisis in every way we can, including the following:
THE CERT TEAM
As a part of the Vietnamese Community Emergency Response Team, we are equipped to assist during such natural disasters and help take care of our communities.
Up to this day, we continue to assist our community during the COVID-19 pandemic. The Vietnamese Community Emergency Response Team (CERT) is ready to help during natural disasters that are most likely to occur in San José. It raises crucial disaster response skills development, such as fire safety, light search, rescue, team organization, and disaster medical operations.
We are trained to react safely, responsibly, and effectively to emergencies and support communities during non-emergency events.
CERT members, through realistic hands-on practice, acquire the expertise in safely responding to manmade and natural disasters, organize disaster response, and raise awareness on preparedness through community events.
FEEDING THE ELDERLY
As our seniors and low-income families were quarantined at home, we brought them meals. The homeless's conditions have also worsened. We sought to ease their burdens by providing thousands of meals and survival kits. We served about 50 families weekly during the lockdown period for months. We provided survival kits and meals to the homeless populations with the help of local restaurants and homeless agencies.
PPE'S FOR EMEGENCY WORKERS
During the most stressful period of the COVID-19 epidemic, the team of doctors and nurses in the US faced a medical emergency and sacrificed their safety. They are brave warriors in the fight against COVID-19, but are not fully equipped with essential protective equipment such as masks, gloves, face shields.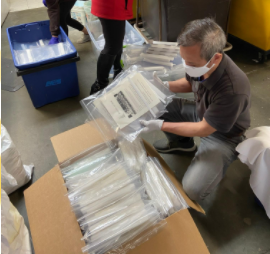 Faced with that situation, FHF was determined to do our best to help the medical team have adequate protective equipment, so that they can feel more secure while working. FHF conducted a community appeal and donated more than 40,000 sets of PPE, including N95 masks, surgical masks, cloth masks, along with face shields, surgical gowns, hand sanitizer and gloves. All of these items were hand-delivered to hospitals, health clinics and nursing homes throughout the Bay Area, from Oakland to San Jose and Gilroy. Sincere thanks to the sponsors who have joined FHF to support the community's anti-epidemic work!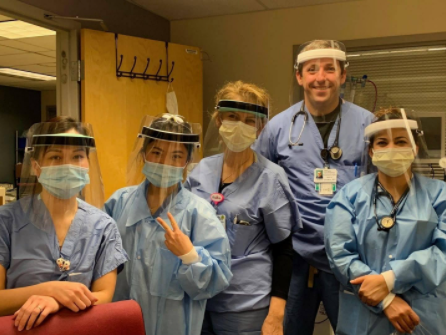 HOUSING SERVICES
Due to the COVID-19 emergency and San Jose City's shelter crisis declaration, three emergency interim housing communities have been added to help protect unhoused people from the disease, reduce the spread of COVID-19 and supplement the housing capacity after the emergency subsides.
FHF is a partner in this initiative initiated by The City of San José and the County of Santa Clara, and other local organizations to decrease the impact COVID-19 could have on homeless individuals and families.
RENTAL RELIEF
Everyone has been emotionally and financially affected by the COVID-19 pandemic. The State and Santa Clara County Rent Relief for Low-income helps residents repay both past due and future payments.
The program aims to assist low-income households with past due payments that accumulated due to the pandemic. It seeks to prevent low-income families from becoming homeless. The County is committed to making sure that families are under a roof.
Friends of Hue is part of this program that alleviates the hardship of the residents. We make sure that the low-income Vietnamese and other ethnic communities are reached and could get help from the program. We help applicants in submitting their applications and navigating the system.